Great trailer with Bruno Knight licking Ben Brown Hairy Ass, and going deep inside.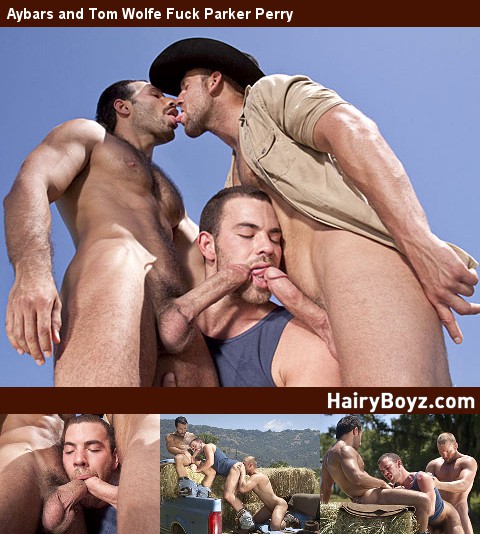 Tom Wolfe finds cowboys Parker Perry and Aybars making out and blowing each other, and he can't help but watch from a distance, wanting in on the action. He approaches and the duo welcome him to their tailgating session, and Parker soon has two cocks in his mouth. It's not long before Parker is getting his hot hairy ass rimmed by Tom, who fucks Parker good and hard while Parker has his lips wrapped around Aybars meat. Aybars and Tom lay parker on his back and Tom sits his amazing ass on Parkers face and spreads Parker's legs wide so Aybars can pummel his ass. This cowboy three-way ends in a trio of cum shots you soon won't forget.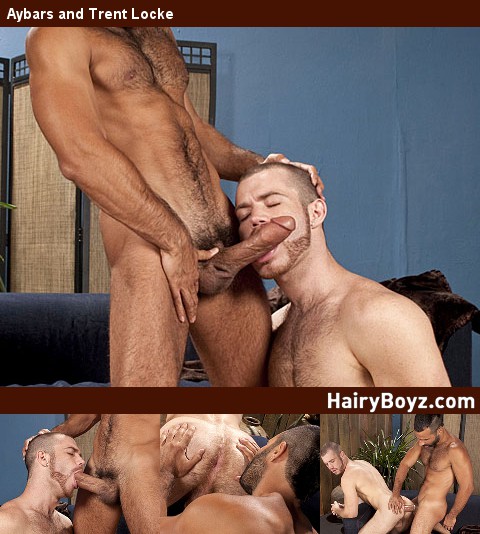 Aybars' dark looks are the perfect complement to Trent's milky appearance in this video. Trent explores Aybars' muscled torso - his tongue lapping at his partner's hairy pecs and abs - then hits the plump jackpot throbbing between his legs. Aybars responds with a vigorous rim job on Trent's hairy ass. Then, mounting Trent, Aybars fucks his partner fiercely looking like a caballero riding his white steed.
A man with hairy back is a man looking man.
When we pound a guys ass, and that guy has an hairy back and shoulders, we know for sure that we are fucking a real man, a man looking man, not a queen who looks like a girl, with his body shaved.
There are people that don't find it sexy, but please, if you are a guy and you are thinking if you should or should not keep your hair, please, make a favor to all of us who are into real bear guys, and keep it.
Loading ...
The next thing I r
emember is that huge cock was trying to force his entry in my hairy tight hole.
He spitted to lubricate, I relaxed and his hairy cock started to push in. When I felt his dick head inside I was already thinking he had broken my ass hole apart, and it was just the begin
ning of that anaconda sized cock playing with my ass.
I relaxed and started to enjoy, He was great at the beginning, he took it off my ass, putted him inside again, slowly. He was an experienced guy with a enormous tool, he had to learn how to use, and he learned it,believe me.
 That cock pounded my ass for more than half an hour, on the table, under the table on the floor, using the chair to support my body, sited in his hairy cock…
He started to pound more quick and deep, more and more fast and deep, touching every part of my inside ass, feeling prostate pression, and he was more quick and more deeper like an heavy metal song performed on a greek olympus during a global orgy fest. He was a truly male fucking specimen. He screamed, I knew he was cumming and his rhythm was so good that I came without having to touch. It was a complete synchronized orgasm, one of the best I have ever had.
He kissed me, we shared our phones, but he remembered me that if I saw him at the job I should never talk to him. I saw him a few more times, since one day, a Sunday afternoon I crossed him in the street with his wife and sons. He was a married guy with a family, it was nice, but them I started to feel bad and I didn't want to be in the middle. Sometimes we still talk by phone, or we drink a bear on a soccer day, but as friends… well most of time
That day at the mall, was one of the most incredible experiences ever.
When doing my shops at the mall supermarket, I saw that the security man was following me. I didn't gave much importance, because I thought he was just doing his job, and i'm not a thief, so, no problem.
He appears to have around 35. Beard, and a good body, at least the uniform was fitting him. At a moment I saw him distracted, I looked better, with more attention, and, off course, he noticed.
I was imagining with clothes.
In a moment he disappear.
I had more things to buy on other stores, so I took 1 hour more, around the mall. It was almost closing hour and the mall was almost empty that day.
I left to the parking, and I saw him, in uniform, staring close to my car. He followed me with his eyes.
- Do you think I didn't saw what you did?
- Sorry? I said.
- Yes, in the supermarket. I saw you stealing condoms.
- This is a mistake, I did not steal condoms! You are wrong.
- Well, I know what I saw and if you want to avoid problems, follow me.
I followed him, in order to explain that he was wrong. He took me to a small room, without windows, only a chair and table.
-Sit There.
I started to speak, saying that that was outrageous, that I didn't took the condoms, he was making a huge mistake… He was in completely silence.
When I finished he said:
-Well, you should had taken them, because you will need one now.
-What?
-I saw how you looked to me, and that you are willing to be fucked by a real man.
I had no time to answer that. My backs were against the wall, he was touching me with his large big hands, under my shirt, feeling my chest hair.
-You are Hairy. I Like it, and I hope you like it too, if you don't it's your problem…
Oh God, This Hot Security Guard wanted to fuck me… I was 1000% excited, and ready for him. That surreal moment left my dick as hard as pure rock.
He took of his uniform shirt. OMG his hairy chest was perfect.
Dark, black hair, covering his chest, his armpits were spectacular, with strong black hair, never shaved and I doubt ever trimmed. That spectacular hairy security guard was hairy as hell, he was a truly very hot handsome hairy male.
His tongue was deep in my mouth, and his hands were still touching and discovering each part of my body. I started to undress to, he kissed my hairy chest, my nipples, he felt my armpits odor, my male scent. I did the same. His smell was amazing.
He didn't smell bad, but did as a non perfume man, with his natural aroma.
When I touched his uniform jeans, I realize that that guy was an horse type. I could felt His Member, I mean HUGE DICK. It felt enormous, and it was, in deed.
He lead my head to it. He opened the zipper of his uniform jeans and there it was: The biggest sequoia dick I ever saw rounded by a perfect hairy bush forest. I licked, and sucked that amazing dick, felt his hairy pubic hair, black and harsh touching my face. His scent penetrated my bowls, and I was willing that it was not only his scent what penetrates me.
He turned around. I saw his perfect hairy ass in front of my eyes, and it was only a few centimeters away. He used his hand to opened it and said:
- Don't you wanna lick it?
It was apparently clean (off course it was sweat, but clean). I started to lick the hairy ass hole of that amazing bear security guard.
Being with my face rounded by that hairy ass almost made me cum, and I was not touching myself.  My tongue fucked his hairy ass for a few minutes, but it was so perfect that they were the most perfect hairy ass dream made reality I could imagine.
I kept passing my tongue by any inch of that guy ass hole.
-I see you really like an hairy ass. Well, me too, but not licking it, just fucking it as deeper as I can.
Feeling the hair around my dick when I nail a bear makes me completely crazy. It is like a drug, and today you are my dose.
I was feeling like if I was in paradise. I turned and showed my hairy ass to him. He was willing to have it. The expression in his face was memorable. He really loved to see my hairy ass. Well, I'm an average guy, I never go to gym, I have my bear belly, I'm not fat, but I'm not the gym kind of guy.
The condoms he was saying I stole were in his pocket. He took his jeans from the table and from his uniform pants pocket he pushed a condoms box. I smiled with that… (continues)
Cowboys and their Hairy Body, real wild men for our pleasure. These hairy gay men live in a hot male masculine world, where their day is long, sweaty, and hot. When they have a moment of down time with their fellow studs, their sexual instincts take over and they satisfy each other in true cowboy fashion: boots in the air, ridin' hard and shooting far